COVID-19 and Status of Federal & State Courts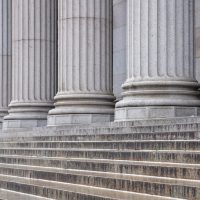 Like so many, the Evans Reporting team continues to monitor the evolving guidelines outlined by the CDC amid the increasing impacts of the COVID-19 outbreak. While the health and safety of our clients, employees and colleagues remains our top priority, we're also working diligently to ensure depositions move forward at this unprecedented time. Considering the realities of reduced travel for depositions or mediations, we encourage you to consider our remote services for conducting depositions.
https://evansreporting.com/covid-19-disrupting-business-remote-depositions-are-the-answer/
STATUS OF THE COURTS
We have been monitoring the status of all Federal and State Courts to ensure we know the guidelines and remote options each court is implementing. Evans Reporting will continue to provide our services to clients globally, utilizing our technology for remote desktop conferencing, teleconferencing, video conferencing and realtime reporting anywhere in the world. Use the links below to connect directly to the Federal and State Courts, which outlines openings and closures across the country.
FEDERAL COURTS
Click on the link below to read updated news and closures posted by the United States Federal Courts as they update orders and inform of closures due to COVID-19.
https://www.uscourts.gov/judiciary-news
You may also check status of the individual Federal Court websites to learn of restrictions and precautions for your local Federal Court.
https://www.uscourts.gov/federal-court-finder/search
STATE COURTS
Listed below are links to find what your state judicial system has implemented regarding COVID-19. Please continue to monitor your local state and circuit court websites for updates related to court closures and pending deadlines.
Alabama
http://judicial.alabama.gov/docs/COV-19%20order%20FINAL.pdf
Alaska
http://courts.alaska.gov/home.htm
https://public.courts.alaska.gov/web/media/docs/socj-2020-8130.pdf
Arizona
http://www.azcourts.gov/Portals/201/Press%20Releases/2020Releases/20200313COVID19final.pdf
Arkansas
https://www.arcourts.gov/news/judiciary-closings-cancellations-changes
California
https://www.sfsuperiorcourt.org/general-info/Information-Regarding-Coronavirus-And-Court-Operations
Colorado
https://www.courts.state.co.us/
Connecticut
Delaware
Florida
Georgia
https://georgiacourts.gov/emergency-judicial-orders/
Hawaii
https://www.courts.state.hi.us/
Idaho
Illinois
http://www.illinoiscourts.gov/
http://www.cookcountyclerkofcourt.org/NewWebsite
https://www.co.madison.il.us/departments/circuit_clerk/index.php
http://www.co.st-clair.il.us/Pages/default.aspx
Indiana
Iowa
Kansas
Kentucky
https://kycourts.gov/Pages/default.aspx
Louisiana
http://www.lasc.org/default.asp
Maine
https://www.courts.maine.gov/index.shtml
Maryland
http://www.baltimorecitycourt.org/
Massachusetts
Michigan
https://courts.michigan.gov/Pages/default.aspx
https://www.36thdistrictcourt.org/
Minnesota
Mississippi
Missouri
https://www.courts.mo.gov/page.jsp?id=151673
https://www.bamsl.org/index.cfm?pg=covid19
Montana
Nebraska
https://supremecourt.nebraska.gov/
Nevada
New Hampshire
https://www.courts.state.nh.us/index.htm
New Jersey
https://njcourts.gov/index.html
New Mexico
New York
North Carolina
North Dakota
Ohio
https://www.ohnd.uscourts.gov/    
https://www.ohsd.uscourts.gov/
Oklahoma
https://www.oked.uscourts.gov/
Oregon
https://www.courts.oregon.gov/Pages/default.aspx
Pennsylvania
Rhode Island
South Carolina
https://www.sccourts.org/index.cfm
South Dakota
Tennessee
Texas
Utah
Vermont
https://www.vermontjudiciary.org/
Virginia
http://www.courts.state.va.us/
http://www.courts.state.va.us/news/items/covid_19.pdf
Washington
West Virginia
http://www.courtswv.gov/index.html
Wisconsin
https://www.wicourts.gov/index.jsp
Wyoming
https://www.courts.state.wy.us/
For the latest on COVID-19 and preventive measures from the Centers for Disease Control and Prevention (CDC) visit https://www.cdc.gov/coronavirus/2019-ncov/community/index.html
Make sure to follow Evans Reporting on Facebook, LinkedIn or Twitter for the latest up-to-date information.
Schedule Now