COVID 19 disrupting business? Remote depositions are the answer.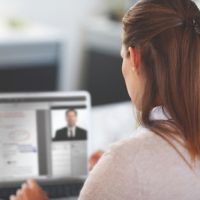 With increasing concerns regarding travel and exposure to the Coronavirus COVID-19, Evans Reporting is taking measures to ensure depositions go forward while offering worry-free options to participants. If you choose to reduce travel for depositions or mediations at this time, we suggest you consider our services for conducting your depositions remotely.
Remote Deposition Services:
Multi-Platform Video Conferencing (MpVC) combines the convenience and cost-savings of attending telephonically with the benefits of viewing the deponent like you are attending in person. This high-tech litigation support service for depositions around the globe allows you to connect from the comfort of your home or office via phone, tablet, computer, or mobile device. Simply notice your deposition via MpVC and let our office know if you need us to ship a laptop and HD video camera to the witness or if they have their own. Learn more at https://www.pohlmanusa.com/remote-depositions/
We require 72 hours' notice to ship equipment. Internet access is required and shipping and/or technology fees may apply.
Teleconferencing connects your deposition or meeting parties remotely via a clear, crisp connection using our teleconferencing phone lines. Evans Reporting employs state-of-the art teleconferencing equipment for use at each telephonic deposition to ensure our clients receive the highest sound clarity for all participants whether on the phone or in the room. Evans Reporting was one of the first court reporting companies in the country to provide technology to enable participants to preregister online for telephonic depositions.  We have since perfected our online registration process, allowing firms to add their clients and information prior to the start of a deposition to ensure it runs quickly and smoothly.
Two options available:
Telephonic Only: Notice the deposition as "Telephonic Only" and all participants, including the court reporter and witness will be remote and dial in to our secure phone line.
Via Telephone: Notice the deposition as "Via Telephone" and the attorneys attend remotely but the court reporter is present in a room with the witness being deposed.
The Evans Reporting team is available 24/7 to assist you with your preferred method of conducting the deposition or mediation utilizing Multi-Platform Video Conferencing or our telephonic capabilities.   We look forward to continuing to provide you with the most accurate, reliable, technologically superior court reporting services.
Please contact us at 800-256-8410 for more information or to schedule a service using one of these options.
Schedule Now