Why You Should Go Paperless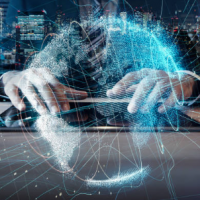 Transcripts, exhibit files, case documents…these are a few of the multitude of legal documents that attorneys are responsible for. If you are an attorney or legal professional that is still paying to have these documents printed and stored, this article is for you. In today's digital world, it is time to say goodbye to hauling countless files to depositions and trials, and to begin to reap the benefits of going paperless.
It saves time and money. Printing costs are not cheap especially when you are printing documents in bulk. Once you have the files printed, you then have to properly organize and store them. This not only takes time, but also takes up prime office space. If you invest in an electronic filing system, this will reduce labor costs and then you can utilize the extra room for another cubicle or workspace. Not to mention that you no longer have to spend minutes (or even hours) looking for a particular document. With online document storage, you can simply locate it by date, title, or particular keywords.
It is eco-friendly. If your law firm is environmentally conscious (as it should be in today's day and age), going paperless is a huge move in the right direction. Less printing means fewer trees cut down and less paper and ink cartridges filling landfills. When you make the switch to an electronic filing system, you and your fellow employees can feel good about it.
Prevent any mistakes or losses. While many people have a negative perception of online filing due to the threat of hacking, an electronic filing system has actually become more secure than a paper filing system. Even if you have the appropriate security system in place, workers can still forget to return an important document back to its file. Or, someone can misplace it into the wrong filing cabinet or lose it entirely. When all of your files are stored digitally, a strict access system is in place to prevent any potential hacks, and the file can never be lost.
Your clients will be satisfied. When documents are physically stored, it takes time to access them (especially if you are out of the office traveling). However, with an e-filing system, you can retrieve files for your clients instantaneously. Also, you can even provide them with their own level of access to the system, so they can view their files on their own time. Clients appreciate this convenience, and are more likely to utilize your legal services or refer you to other potential clients.
Are you ready to make the change to paperless? You won't regret it. Contact us today at 800-256-8410 to learn more about how we can help create efficiencies for your firm.
Schedule Now