What to Look For In Your Records Retrieval Provider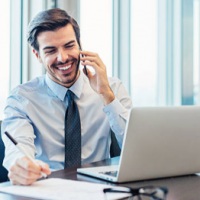 Retrieving records for litigation isn't always easy, but it is a very important aspect of the discovery process. Properly retrieving your records can result in evidence needed to prove what, if any, injury occurred; the defendant's responsibility; plaintiff's out of pocket costs and the total amount of damages owed. Given the importance, there are several factors that can influence your choice in a records retrieval provider.
Experience– How long has the record retrieval provider been in business? How many records do they collect a month? More reliable providers have been operating for longer than one year.
Expertise– What types of records does the provider have experience with? If the provider deals almost exclusively with medical records, you might not want to use them for retrieving business records, personnel files or social security records.
Speed– How quickly can the provider retrieve the records? It's important to consider the promptness of the provider. You don't want to wait months for your legal records. Look for a records retrieval team with an average turnaround of less than 30 days. Also, check if they offer an expedited delivery option in the case that you need the records more quickly.
Dedication– How many people on the team are dedicated to your records retrieval? Will the person or people in charge of your records keep up with your retrieval and stay in contact with you during the process? You want a team that you can trust, and that is responsive to you and your needs.
Confidentiality– Is this provider HIPAA compliant? Records contain sensitive information, so it is important that the records retrieval provider takes confidentiality seriously. You don't want any breaches of privacy or confidentiality to create further complications. Ask firms about their data encryption, as it is an important process in keeping records secure and safe.
So, what exactly does the records retrieval process typically look like?
First of all, you need to know where to find your records. Figure out the agency or facility that has the needed records and find the contact information for their record department. If the records are medical related, you'll need additional information like the office or hospital where the patient received treatment. If it's an accident involving a truck, you'll need employment and health record for the driver and maintenance records on the truck.
After locating where your records are held, the next step is to find out what is needed to request a copy. If it's medical records, authorization from the patient or a court order will be needed. Often times, site-specific forms and authorizations might need to be filled out.
Next, the important part is to find a qualified retrieval specialist. Use the tips aforementioned to find the best records retrieval specialist for your case.
When you find a retrieval provider, you'll have to fill out a request form. Most have an easy form to fill out to set the record retrieval in place. After the form is submitted, the record collection process should begin.
Once the request form is submitted, your part of the work is done. The person(s) in charge of your case will begin filling out forms, faxing documentation, and taking all possible steps to retrieve the record(s) quickly and efficiently.
With our experience, speed and accuracy, Evans Reporting is your superior choice for all of your court reporting needs. If you are interested in our records retrieval services, you can learn more at www.evansreporting.com or by calling 800-256-8410.
Schedule Now