Travel Tips for Legal Professionals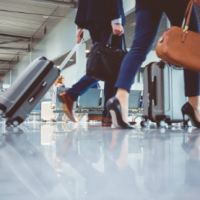 Traveling can often be stressful, especially when you are traveling for business. Attorneys and court reporters alike are no strangers to the stresses of travel for work, such as bad weather, heavy traffic, airline delays, lost luggage, etc. With these simple tips, your business trips will run more smoothly.
Plan, plan…and then plan some more. It is crucial that you take the time to plan as many details as possible prior to your trip. Create a checklist to ensure that you don't forget anything important, such as securing a rental car or picking up your business suit at the dry cleaners. Confirm your schedule, and plan ahead where you will eat on your lunch break or how you will spend your downtime. (Travel apps, such as Yelp or TripAdvisor, are great help in finding restaurants or things to do in a new city). If you are expected at multiple locations during your trip, download the directions beforehand. The more that you have squared away before your departure, the better your chance is of having an organized, successful trip.
Talk to your supervisor and any involved parties beforehand. The week prior to your trip, meet with your boss to clarify the objectives of your trip. It is important to have a clear understanding of what he or she expects from you while you are away. Also, if you are traveling with co-worker(s), sit down with them to clarify all of the details on your itineraries so that you are both on the exact same page. If meeting with clients while traveling, speak to them before you leave to confirm both their and your expectations of timing and what will be accomplished.
Pack light. Lost luggage is every business traveler's worst nightmare (second to delayed/cancelled flights). To avoid the disaster of lost luggage, bring only a carry-on when possible. This also prevents you from being late, as you can simply check in for your flight online and head straight to airport security when you arrive. Plus, if you don't check a bag, you don't have to waste 30 minutes waiting at the luggage carousel. If you are going on a longer trip and need to check baggage, pack necessities in a carry-on, such as a toothbrush, phone charger, any work-related materials or equipment, etc. Also, as tempting as it is to wear comfy clothes while traveling, you should wear proper business attire. That way, in the unfortunate event that your luggage does get lost, you can carry on as a true professional until it arrives.
When you have downtime, use it. Spending every second of your trip working increases your stress. If you have a break during the trial, walk down to the café on the corner. During a quiet evening, enjoy a local attraction. Taking the time to relax and unplug will have you feeling refreshed and recharged for the next day.
Take advantage of technology. Technology is arguably the greatest resource when traveling. Now, you can conveniently check into your flight online, as well as keep close eye of your flight schedule. Weather apps make packing easier than ever before, and Uber® or Lyft® can get you where you need to go if you don't have a rental car. When you utilize technology, you can also pack lighter. That's right. Storing all of your case files and work documents online prevents you from having to load them along with you in a heavy briefcase.
At Evans Reporting, our court reporters have provided services across the globe for over 30 years, making us masters of travel. If you would like to learn more about our court reporting or other litigation services, visit: https://evansreporting.com/services/ or call 800-256-8410.
Schedule Now