Multi-platform Video Conferencing is Your New Year Solution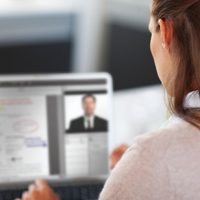 You have survived one of the most hectic times of the year—the holiday season. With the New Year comes new challenges and new opportunities, and you may be wondering how you are going to make it all work. Whether you are looking to achieve a better work-life balance or want to cut down on travel expenses, Multi-platform Video Conferencing (MpVC) is the solution.
This past year, MpVC became one of top technology trends in litigation. It takes telephonic depositions to the next level by offering you the benefits of "appearing in person." When you utilize MpVC, you can attend a deposition or client meeting from the convenience of your own office or home. The service allows you to remotely connect from any device anywhere, preventing you from having to travel across the globe to attend deposition after depositon. Are you out of town at a conference or on vacation? Want to spend more time at home with loved ones? No problem, MpVC averts you from having to cancel or reschedule any deposition or client meeting.
MpVC has a variety of benefits, such as reduced travel time and expenses as well as client connectivity. It can be a challenge for lawyers to stay connected with clients especially if their client is located in another state or the lawyer has a large workload. Mobile video conferencing allows lawyers to bridge the distance between themselves and their clients while allowing them to work together in a professional setting. Multi-platform capabilities allow various individuals to participate in a mobile video conferenced deposition or meeting from different devices. For example, if a case has various witnesses located throughout the United States, each could participate in the deposition from their home state. This allows the litigation process to be much more cost-effective and efficient.
With MpVC, you can better balance your work life and personal life all while cutting expenses. Are you ready to appear at your next deposition from your smart phone or tablet? Learn more about this service, as well as how our team can support you in all other areas of the litigation process at: https://evansreporting.com/services/.
If you found this blog useful, consider reading our blog on "Getting the Client Ready for a Deposition" at: https://evansreporting.com/getting-the-client-ready-for-a-deposition/.
Schedule Now