Apps Every Legal Professional Should Have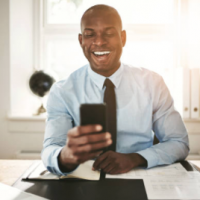 Do you want food delivered straight to your door? There is an app for that. What about a quick, easy at-home workout? There is an app for that. Or, maybe you need a ride to court? Well, there is an app for that too. In today's technology-driven world, apps are changing our daily lives and our professions. The legal industry is no exception. We have gathered a list of the best apps that every legal professional should have.
CamScanner
This popular app allows you to scan any document, and convert it into a PDF image. Many lawyers take countless written notes on a daily basis. If you are one of them and need notes to keep you on track or to communicate with others in your firm, you can stop spending time typing what you have already written. All you have to do is scan the document, and then you can share it with your colleagues. It's that simple.
NotaryCam
Chances are that you have needed something notarized in a jiff before, and didn't have time to get in touch with a notary. You need NotaryCam, the app allows users to get documents legally notarized in all 50 states. How does NotaryCam work? The app consists of an extensive team of certified notaries who create digital versions of documents that need notarized. Then, the webcam confirms their identity, and allows them to electronically sign the documents. The system is convenient and secure.
FastCase
The next time that you are preparing for a complex case, and need to access a certain law, download FastCase. This app searches both state and federal laws, and allows you to filter the results to find exactly what you need. FastCase is super easy to use, and not to mention free.
TimeClock
As a lawyer, you are constantly on the go. Your hectic schedule can make it hard to keep track of your work hours, and your billable time. TimeClock can help. This iOS and Android app makes it easy to keep record of your billable hours. You can even export data into a spreadsheet, allowing you to share your timesheet with colleagues or clients.
SignMyPad
This electronic signature app should be installed on your tablet ASAP. SignMyPad allows clients to electronically sign a document, which you can then save and share with other parties securely. It saves you time from printing and scanning countless documents (and it also saves trees, too).
We hope that you find these apps to be beneficial to your legal practice. Did you know that we have a mobile app for access to your calendar and transcripts? Learn more by visiting https://evansreporting.com/services/ or contacting our Litigation Services Team at 800-256-8410.
Schedule Now